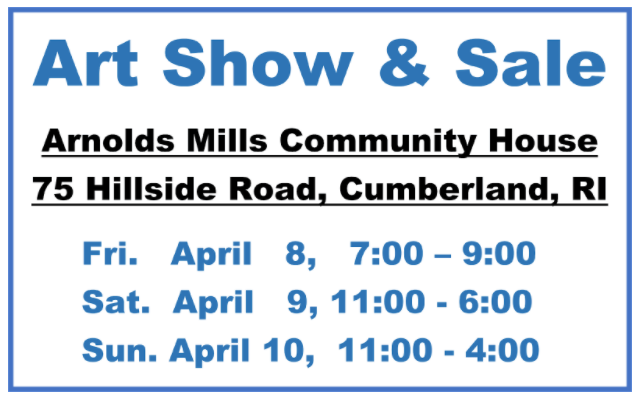 Call for Artists
Arnolds Mills Community House 33rd Annual Art Show & Sale April 8 to April 11
 In honor of Margaret Stearns wish to support the charitable, religious and educational needs of the community, the Trustees are delighted to announce the 33rd Annual Art Show & Sale at the Arnolds Mills Community House, 75 Hillside Road in Cumberland, R.I.
Friday 7:00 - 9:00 pm   Awards Presentation 7:30 pm
Saturday 11:00 - 4:00 pm
Sunday 11:00 - 4:00 pm
For this juried exhibition, art work is exhibited by adult artists from greater Cumberland and art students from Cumberland High School. A wide variety of artistic mediums are shown in oil, watercolor, acrylic, sculpture, ceramic and photography.  In addition to the exhibited art for sale, artists also have for sell their "Bin Art", original art, prints, note cards and stationery.
Monetary Awards will be:
Adult Artist:
1st place $250.00
2nd place $200.00
3rd place $150.00
H.M. $75.00
Cumberland, High School Art Students:
1st place $200.00
2nd place $150.00
3rd place $100.00
H.M. $50.00
Merit $25.00
Juror Announcement for the 33rd Annual Art Show & Sale
The Arnolds Mills Community House is delighted to announce that Christiana Beecher will be the juror for the 33rd Annual Art Show & Sale. Christiana is an active Attleboro Arts Museum Trustee holding a BFA degree in Industrial Design from the Cleveland Institute of Art, Cleveland, Ohio. She is a full time professional fine arts painter specializing in contemporary landscape art. Christina has been honored with many awards and exhibits her creative work locally at the Attleboro Arts Museum and many other fine galleries, including True Grit Gallery in Middleboro and galleries in Boston. Immersed in the art world her whole life, Christina loves encouraging all types of art and learning to all ages by teaching in her home studio.