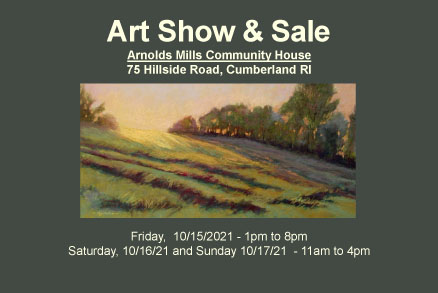 Arnolds Mills Community House 31st Annual Art Exhibition and Sale
In honor of Margaret Stearns wish to support the charitable, religious and educational needs of the community the Trustees are delighted to announce the continuance of the juried Annual Art Exhibition and Sale at the Arnolds Mills Community House.
Since 1989, AMCH has sponsored an annual art exhibition to promote the creative talents within the community. This exhibition is for the sole benefit of the artists. Their original art and their Bin Art of reproductions, note cards, etc., will be displayed and there are no commissions requested. All sales benefit the artists and substantial monetary awards are presented to the 1st, 2nd, 3rd place, and Merit recipients for both the adult and student artists. Recently the art students of Cumberland High School have been invited to participate in the annual art exhibition. Their professional creative work added to the outstanding work of local adult artists has made this a very special community event. The anticipated exhibition of over 100 pieces of art in mediums of oil and water color painting, ceramics, photography and jewelry offers a vibrant reminder of the creativity within our community.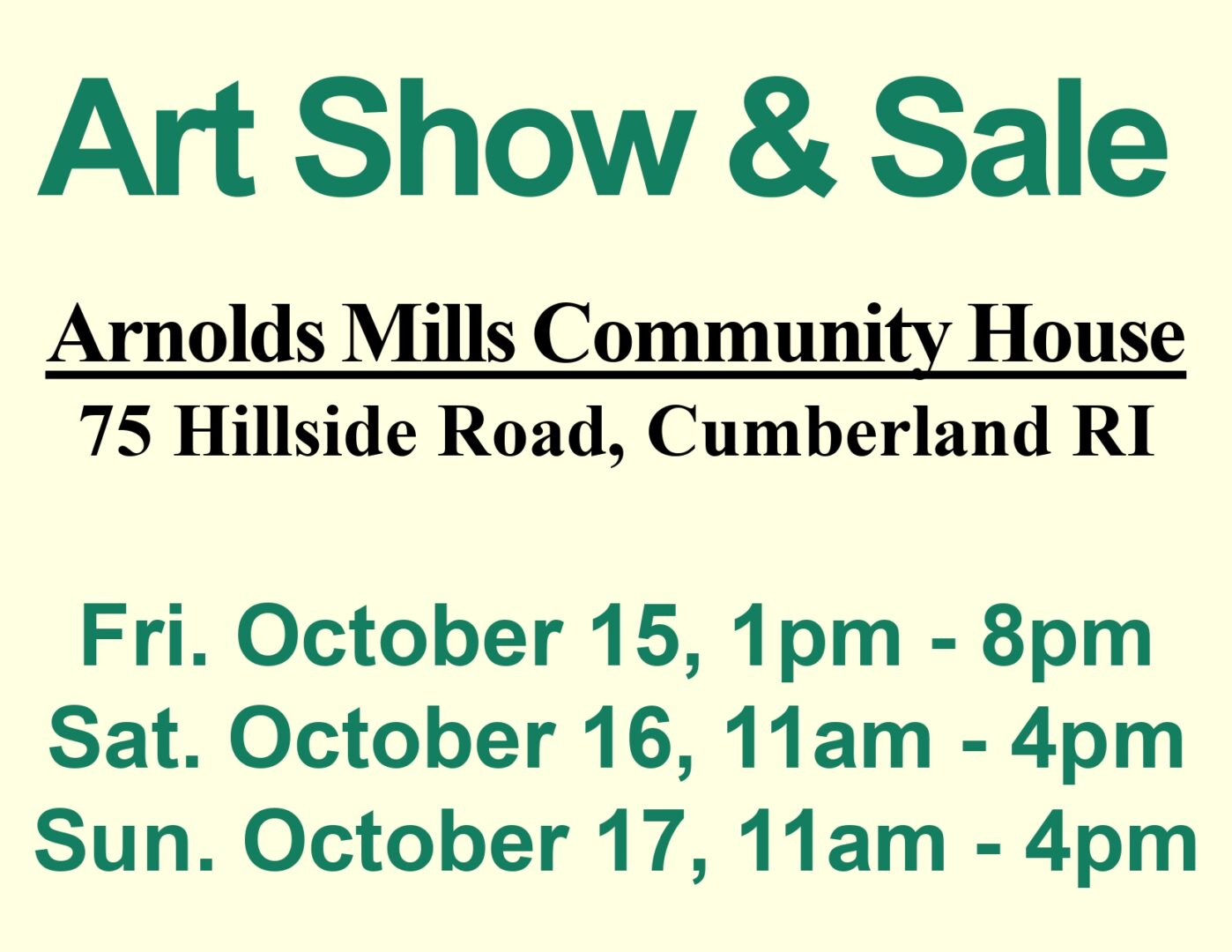 Call for Artists
31St Annual Art Exhibition & Sale Arnolds Mills community House 75 Hillside Road, Cumberland R.I.
The Arnolds Mills Community House will hold its 31st Annual Art Exhibition and sale in October on Fri. 15th, Sat. 16th, and Sun 17th. This exhibition is a juried exhibition for submissions and awards for the sole benefit of the artists, no commissions are requested.
Pre-registration via email or postal service by Thursday, September 30, 2021 is required. All art is to be delivered to AMCH, Tuesday, Wednesday, October 12th or 13th, 3:00 pm to 6:30 pm or by special arrangements via email contact.
A registration fee of $10.00 is required when art is delivered. Up to 5 pieces of art may be submitted. No framed art is to exceed 28" in length or width. Submitting artists must sign our liability waiver. All art must be original and properly prepared for hanging. A label must be attached to the back of each piece of art indicating artists' name, title of art, media, size and contact info.
A list of art work to be submitted should include titles, media, framed dimensions, prices and contact info and emailed to Nancy Abato, Program Director, at nabatoftcox.net by October 2', 2021. Each artist must retain a copy of this list that can also be mailed to Nancy Abato, 88 Branch Ave. Cumberland, RI 02864. The name and contact info of buyers will be recorded and given to the artist. The sold artwork must remain on display until the end of the exhibition, Sunday, October 17th at 4:00 pm. Artists must make arrangements for purchasers to pick up their item at the close of the exhibition.
Each artist is encouraged to provide a brief profile, which will be posted during the exhibition. Bring your profile with your artwork.
Artists are encouraged to also exhibit Bin Art for sale: Shrink wrapped original art or art reproductions, note cards, etc., no commission is requested. Please display this work in a professional looking container or stand. Appropriate basket containers would be an aesthetic compliment to the historical context of our old Quaker fireplace room where Bin Art will be displayed.
The exhibition is free and open to the public. There will be no opening reception on Friday due to Covid restrictions, however, Friday viewing hours have been extended. Artists can claim their awards during viewing hours.
Viewing, Friday, October 15th 1:00 to 8:00 pm
Viewing, Saturday, October 16th 11:00 to 4:00 pm
Viewing Sunday, October 17th 11:00 to 4:00 pm
Nancy Abato
Program Coordinator
Announcement of the juror and awards for the Arnolds Mills Community Houses' 31st Annual Art Exhibition
Juror:
The Arnolds Mills Community House is delighted to announce that Mim Brooks Fawcett will be the juror for the 3151 Annual Art Exhibition to be held October 15th, 16th & 17th.
Mim, an outstanding creative person in various art mediums, is the Executive Director and Chief Curator of the Attleboro Arts Museum since 2006. She has focused her efforts on heightening the Museum's profile locally as well as nationally and providing outstanding diverse exhibitions, arts programs and classes to promising and professional artists. Mim encourages museum visitors to explore the wonders and challenges of art through classes, gallery talks and workshops designed to stretch creative thinking.
Awards:
With the submissions of creative art work from Cumberland High School art students, there will be two classifications for the monetary awards as follows:
Adult artist Awards:
1st place $250.00
2nd place $200.00
3rd place $150.00
H. M. $75.00
C.H. High School Student Awards
1st place $200.00
2nd place $150.00
3rd place $100.00
H.M. $50.00, Merit $25.00
For information regarding registration fees, submission dates, etc. please contact Program Coordinator, Nancy Abato, nabato@cox.net